News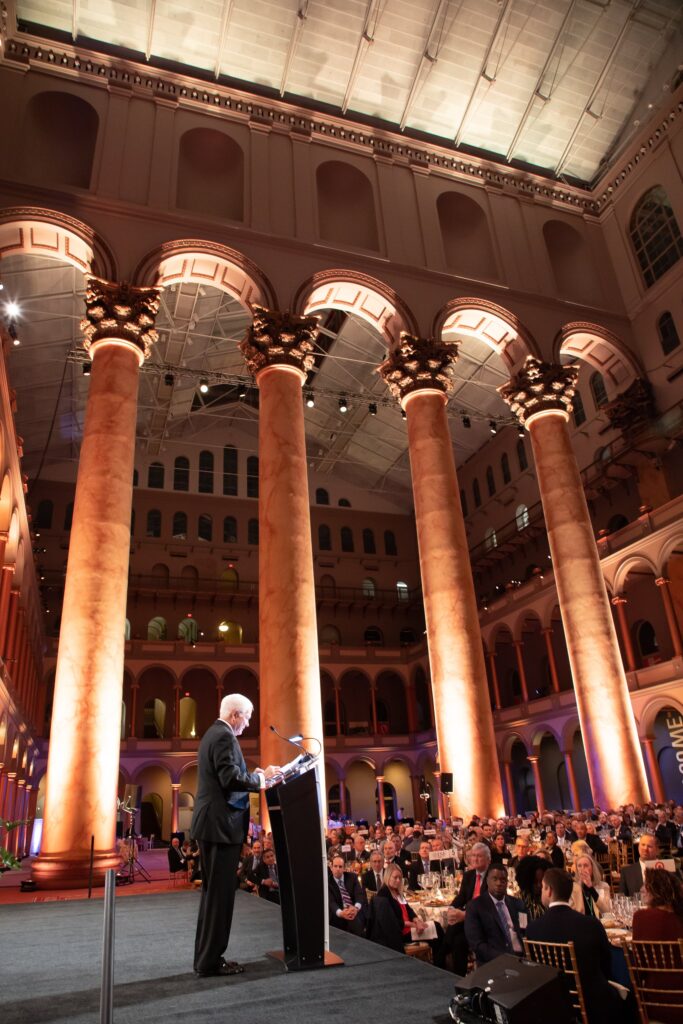 11th Annual ISF Dinner
On November 16, 2022, the International Security Foundation (ISF) hosted its 11th annual ISF Dinner to celebrate the Overseas Security Advisory Council (OSAC). Held at the National Building Museum during OSAC's Annual Briefing Week, the in-person ISF Dinner was highly anticipated after two years of virtual receptions.
Attended by nearly 1,000 members of the public-private global security partnership and emceed by Ann Compton, broadcasting pioneer, the evening, once again, broke records, raising over $1.1 million. Funds from the ISF Dinner support critical OSAC programming, such as Common Interest Committees and Country Chapters, and the ISF Grants program, which supports smaller U.S. nonprofits working in the security field.
The evening highlights included:
Keynote Speaker Robert Gates, Secretary of Defense from 2006 until 2011. Dr. Gates shared moving and personal stories of his time serving two Presidents as Secretary of Defense during the Iraq and Afghanistan wars. His heartfelt words were timely—he opened his remarks stating that his "five years as Secretary of Defense have great relevance to today's challenges"—and a reminder of the duty of care that everyone in attendance embraces.
Excerpts from his remarks:
"Parallel to my four and a half years at war is the word 'love.' There is no other word than love for what I came to feel for the troops and the overwhelming responsibility I felt for them. It only took a few front lines visits before I felt a deep emotional attachment. I came to regard them as my own sons and daughters. Once a young soldier in Afghanistan asked what kept me up at night. I answered, 'You do.' There will always be a special place in my heart for those who served in Iraq and Afghanistan."
"Being Secretary of Defense made the abstract of war real. I saw it close—the cost of war and the lives ruined and lost. Another obvious lesson I learned was that wars are a lot easier to get into than out of. I strongly believe that America must continue its global responsibilities, but we need to understand that there are limits to what the U.S., which is still the greatest nation in the world, can do. We must always be prepared to use our military forces, but I believe that it should be our last resort."
VIEW THE ISF DINNER PHOTO GALLERY
The 2022 OSAC Awards were presented to these well-deserving winners:
Distinguished Achievement Award, Regional Security Officer: Karen Lass, Regional Security Officer, London
Distinguished Achievement Award, OSAC Program Office: Bina Hensel Saruti, Senior Analyst, OSAC Program Office
Distinguished Achievement Award, Private Sector: Michael Latza, Manager Regional Security, Mastercard
The above awards were presented by Christina Johnson, Chemonics International.
Common Interest Committee Achievement Award: Academia Sector Committee
Country Chapter Achievement Award: OSAC Columbia-Bogotá Chapter
These awards were presented by Edward Silverman, Allied Universal®
Watch videos and read the award winners' impressive accomplishments here.
National Anthem performed by the Congressional Chorus, under the direction of Dr. Allan Laiño, includes Congressional staffers who share their common passion for American music, community outreach, and creating inclusive spaces for our diverse country. Watch their stirring rendition.
Thank you to our wonderful Dinner Sponsors and ticket holders!
Your generosity will continue to help the global security community learn, network and share vital information and bench-marking needed to keep Americans living, working and studying abroad safer and more secure.
Click here for a complete list of our generous 2022 ISF Dinner Sponsors.
We also remain grateful for our wonderful event partners, The Webster Group, EMT Productions and D3. Your expertise and talents made for a seamless, successful evening. A huge thanks to the ISF Board President, Rich Davis, our Event Committee Chair, Eddie Silverman, Committee members and Board members for all you did for the event.
Mark your calendars for the 12th Annual ISF Dinner to celebrate OSAC on Wednesday, November 15, 2023, at the National Building Museum in Washington, D.C. We look forward to seeing you there.
< BACK TO NEWS